Part 28.1: As part of series of articles (blogs) regarding Credit and Credit Score, here we go:

Disclaimer:
Every effort has been made to make these articles as complete and as accurate as possible, but no warranty or fitness is implied.
The information provided is on an "as is" basis. The author shall have neither liability nor responsibility to any person or entity with respect to any loss or damages arising from the information contained in this book.

The author is not engaged in professional services. If professional advice or other expert assistance is required, the services of a competent professional person should be sought.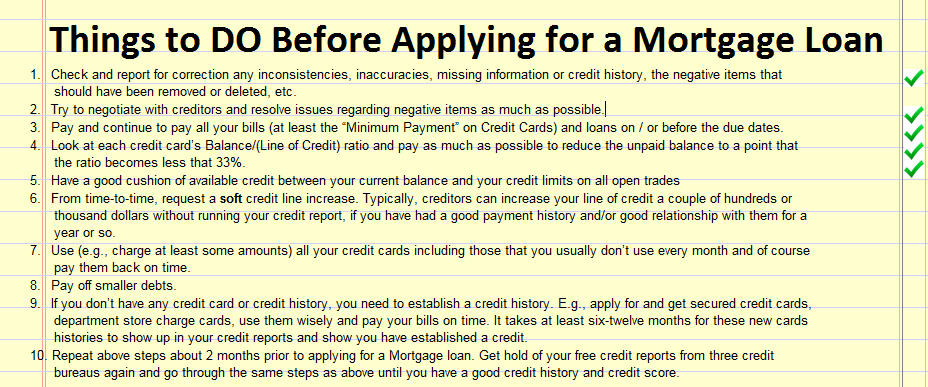 Home ownership is part of the American dream. If purchasing a house is the next step in your many life stages, you'll need to start well in advance to prep your credit before visiting lenders.
If you are buying a home sometime soon and have plans to apply for a mortgage loan, follow these Do's prior to applying for a Mortgage Loan:
Do:
About two months (if you know you don't have any credit issues and your credit score is good) or 10-12 months (if you know you have some credit issues OR don't know about your credit reports or scores) prior to applying for a Mortgage loan, get hold of your free credit reports from the three major credit bureaus in the United States; Equifax, Experian and TransUnion.
You can request your credit reports via phone, mail, or online from each bureau. Optionally, you can also request your credit score from each bureau by paying some fees. There are also many websites that provide you with reports and scores and monitor your credit for a fee, however, most of them offer a one-month free trial. See the "What is a Credit Score" section of this book to find out how and where you can request your credit reports and scores.
Remember, you can request and get your credit reports without affecting your credit score as many times you want. However, usually you are only entitled to one free report from each credit bureau in a year. You may be entitled to more than one free report, if you meet certain criteria's.
After getting your credit reports, well in advance, do the following:
DO'S:
1. Check and report for correction any inconsistencies, inaccuracies, missing information or credit history, the negative items that should have been removed or deleted, etc.
2. Try to negotiate with creditors and resolve issues regarding negative items as much as possible.
3. Pay and continue to pay all your bills (at least the "Minimum Payment" on Credit Cards) and loans on / or before the due dates.
4. Look at each credit card's Balance/(Line of Credit) ratio and pay as much as possible to reduce the unpaid balance to a point that the ratio becomes less that 33%.
5. Have a good cushion of available credit between your current balance and your credit limits on all open trades
6. From time-to-time, request a soft credit line increase. Typically, creditors can increase your line of credit a couple of hundreds or thousand dollars without running your credit report, if you have had a good payment history and/or good relationship with them for a year or so.
7. Use (e.g., charge at least some amounts) all your credit cards including those that you usually don't use every month and of course pay them back on time.
8. Pay off smaller debts.
9. If you don't have any credit card or credit history, you need to establish a credit history. E.g., apply for and get secured credit cards, department store charge cards, use them wisely and pay your bills on time. It takes at least six-twelve months for these new cards histories to show up in your credit reports and show you have established a credit.
10. Repeat above steps about 2 months prior to applying for a Mortgage loan. Get hold of your free credit reports from three credit bureaus again and go through the same steps as above until you have a good credit history and credit score.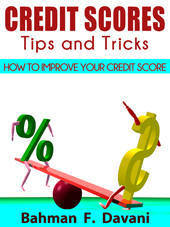 HOW to overcome the problems with your credit history and credit score?
Knowledge, education, awareness, practice and discipline are the essential keys to being successful on any subject. The book, "Credit Score Tips and Tricks", provides you information, tools, techniques to educate yourself and manage your credit report & credit score, and therefore manage your finances effectively at no additional cost.
I have decided to bring and share with you, chapters or sections of my book, Credit Score Tips and Tricks, as series of articles here. This is the number 28.1 of such a series.
I also created and manage a GROUP in ActiveRain, Credit Reports and Credit Scores, Please feel free to join and share your thoughts and experiences.