Texas Association of REALTORS® Conference
Dallas, TX September 7-10, 2013<![if !vml]>

<![endif]>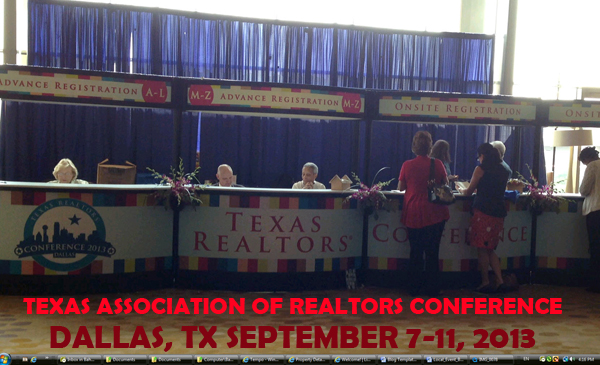 Click on the Picture to watch a short video
When: September 7-10, 2013
Hours: 7:30 am- 5pm
Where: Omni Hotel, Downtown Dallas
Who: Everyone and Anyone
Tickets: Free Admission to Trade Expo Exhibits, some cost for MCE courses and lunch/dinner events
Contact Information: texrealtors@texasrealtors.com
Schedules: You can access a copy of TAR Conference tentative schedule at: http://www.texasfivestarrealty.com/documents/TAR_Dallas_September_Schedule.pdf
Twice a year, winter and summer, Texas Association of REALTORS® (TAR) will hold a major conference in one of the cities in Texas. This summer, the conference is held in the beautiful Omni Hotel in downtown Dallas TX from September 7th through September 10th.
This conference is for all real estate residential, commercials, investors, property managements, etc.
This conference covers many educational courses (MCE and non-MCE), forums, and events discussing many hot subjects affecting the real estate industries in Texas. The discussion and forums cover; real estate local and national markets news and forecasts, public transportation, water issue which is a big issue in Texas, public policy, technology & MLS forums, and many more. In addition, they have planned some special events and tours for visitors to see more of Dallas' rapidly revitalizing urban areas with guided commercial tours.
This year Texas Association of REALTORS gone paperless, it means they don't provide hard copy of course materials, instead they are available in TAR website.
Also, they have provided a nice free conference mobile App that provides you all information you need regarding this conference. If you are iPhone user, you will want to search for "TexCon" in the App store. If you are an Android user, visit the TAR mobile conference website, www.TexasREALTORSConference.com
Again Welcome to Dallas and enjoy your Texas REALTORS Conference!