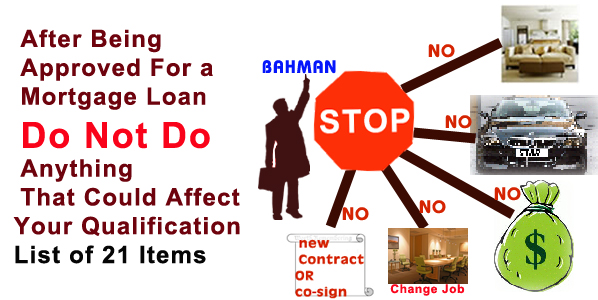 Home ownership is part of the American dream. If purchasing a house is the next step in your many life stages, you'll need to start well in advance to prep your credit before visiting lenders.
If you have already applied for a mortgage loan and been approved, don't mess up your loan status by doing something that affects your qualification during the loan approval.
Unfortunately, many buyers don't know the lenders can and will check, run their credit reports again, confirm employments, the pre-approved clients even up to day of closing. Depending on the latest credit reports and credit scores in many cases, the previously pre-approved buyer could be OK with no change, denied of the loan completely or perhaps qualified with higher interest rate and/or different terms and conditions.
Following is a list of events that could impact lender's decision at the last minute, try to avoid them. Explanation of each bullet list could be from few paragraphs to pages and I have already written blogs on some of the items. Due to the size, I am just listing the items to avoid. If you want explanation or the reasoning for each item, please let me know I will provide that to you.
List of Don'ts After being approved for a Mortgage Loan and before closing:
1. Don't be tempted to open a department store charge card to receive discounts.
2. Don't apply for or accept any new Credit Cards
3. Don't apply for a "Hard" Line of Credit Increase.
4. Don't apply for a new loan.
5. Don't co-sign any loan.
6. Don't apply for a new credit card.
7. Don't allow anybody to run your credit report
8. Don't close any of your credit cards
9. Don't consolidate debts
10. Don't purchase a major item (neither with your Credit Card nor with cash)
11. Don't let the ratio of Amount Owed to Credit Line to be greater than 33% for each card.
12. Don't be late paying your payments or obligations
13. Don't quit or change your job even within the same company for better salary or position.
14. Don't get retired (usually you can ask your employer to postpone for a month or so)
15. Don't get involved in a law suit and pray not to be sued.
16. Don't file for bankruptcy, foreclosure, short sale, etc.
17. Don't place a dispute on your credit report. This causes more delay for approving a loan and could cause a higher interest rate.
18. Don't make unexplainable deposits into accounts used for qualifying
19. Don't pay off collections/charge offs
20. Don't 'skip' or 'push the date' on other current monthly payments
21. Don't make loans to others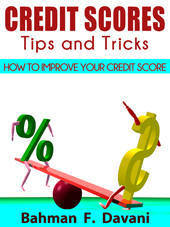 HOW to overcome the problems with your credit history and credit score?
Knowledge, education, awareness, practice and discipline are the essential keys to being successful on any subject. The book, "Credit Score Tips and Tricks", provides you information, tools, techniques to educate yourself and manage your credit report & credit score, and therefore manage your finances effectively at no additional cost.
I have decided to bring and share with you, chapters or sections of my book, Credit Score Tips and Tricks, as series of articles here. This is the number 28.2 of such a series.
I also created and manage a GROUP in ActiveRain, Credit Reports and Credit Scores, Please feel free to join and share your thoughts and experiences.