Part 23: As part of series of articles (blogs)

regarding Credit and Credit Score, here we go:

Disclaimer:
Every effort has been made to make these articles as complete and as accurate as possible, but no warranty or fitness is implied.
The information provided is on an "as is" basis. The author shall have neither liability nor responsibility to any person or entity with respect to any loss or damages arising from the information contained in this book.

The author is not engaged in professional services. If professional advice or other expert assistance is required, the services of a competent professional person should be sought.
To a creditor, numerous inquiries may indicate several attempts to obtain credit and therefore, a possibly unstable financial condition.
TIPS:
· If you are buying a home sometime soon, don't be tempted to open a store charge card to receive discounts. Though these discounts can be huge, sometimes up to 25% of your purchases on the first day, you will be subject to a credit inquiry for a charge card. This could have a negative impact on your credit score (e.g., due to excessive number of inquiries).


· Allow a creditor to request a credit report only when you have made a definite choice in the purchase of a product.
· If you apply for a new credit card and get approved, this would be a new card that causes your average history length to go down.
· If the lender sees a recent (e.g., within last two months or so) inquire or several inquiries on your credit report, they will consider it as a red flag. He or she wants to make sure that you were not awarded another credit card or loan that has not been reported or shown on your credit reports yet. Therefore, a lender might ask for and request an explanation and supporting documents. This could delay your loan approval.
· If you check or request your credit report yourself, it will not impact your score regardless of how many times you check. Therefore, it is suggested that you get a copy of your credit report from all three credit bureaus, at least once a year.
If you are buying a home sometime soon and you suspect some problems with your credit, make sure to review your credit reports at least 10-12 months prior to purchasing your dream home. If you believe there is nothing negative in your credit history, still make sure to review your credit reports at least 2-3 months prior to purchasing your dream home. This allows you to clean up some items, if possible, before the lender pulls up your credit reports and quote you the interest rate, etc.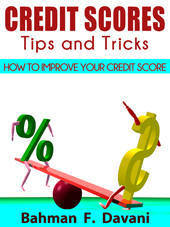 HOW to overcome the problems with your credit history and credit score?
Knowledge, education, awareness, practice and discipline are the essential keys to being successful on any subject. The book, "Credit Score Tips and Tricks", provides you information, tools, techniques to educate yourself and manage your credit report & credit score, and therefore manage your finances effectively at no additional cost.
I have decided to bring and share with you, chapters or sections of my book, Credit Score Tips and Tricks, as series of articles here. This is the number 23 of such a series.
I also created and manage a GROUP in ActiveRain, Credit Reports and Credit Scores, Please feel free to join and share your thoughts and experiences.