Will Holding an Open House Benefit the Seller?
The answer to this question in today's crazy market, when there is a shortage of listings and as soon as a house comes to the market there would be several offers next day with full price or higher, is NO. There is no need for open house.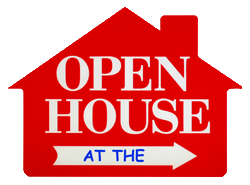 However, nothing stays the same forever and soon, after few months, the market could become well-balanced and later could even become the Buyer market.
So the question is, assuming well balanced market or Buyer's Market, Will Holding an Open House Benefit the Seller? The answer could be different for different agent, different parts of country and/or local markets. My personal though for my area is NO and my reasons are explained below:
Ideal Situations vs. Reality:
The ideal expectation from an open house is a steady flow of traffic coming to the property one-by-one. Then the agent has time to spend quality time with each visitor, show the house, gets feedbacks and information about the visitors. However, in reality, nobody shows up for a long period of time or suddenly a couple of groups arrive at the same time. This causes problem with agents since he/she cannot spend quality time with each and also loses the sights from visitors that could cause problems.
Potential Risks:
Last year in our area many reported a suspicious visitor attending open houses and saw him going though stuffs of home owners. Even last month, we (agents) were warned, by our association, that some have seen a man going through medicine cabinet in the open houses. These could happen if the agent loses sight from visitors. So, we are talking about potential risks of privacy, safety and security of the home owner and agent as well.
Who are the Visitors?
For most, the neighbors (nosy!) and by passers who are "Just Looking" and are not represented by agents are the main groups of people to visit. These are not serious Buyers and their main purpose is to find out how much the houses are asking for or worth in the area, and compare those houses with their own in the same or close areas.

The serious Buyers that have agents do not need to come to open house at a certain time of certain day. They could schedule to visit at any reasonable time.
What is it the Cost?

Cost to the Agent:
The preparation, advertisements, announcements, spending a couple of hours in the house, sometimes buy refreshments, food, etc., cost an agent a lot of hours and money.
Cost to the Home Owner:
Creates inconveniences for the home owners in the way that they have to leave the house for a couple of hours during the time that they usually spent family time (e.g., weekends).
It puts home owner's property and belonging s at risk.
What are the Benefits?
Benefits to the Agent and Home Owner:
Though it is possible, I have not seen for myself, the visitors makes offer at the open house. The agent may get prospective visitors information for future communications (leads), but not necessary getting the offer for that particular house. Remember, this is the benefit for the agent and not for the home owner.
Does it worth?
Based on above analysis's, my conclusion is that holding an open house is not beneficial to the home owner.
I would like to hear your thoughts and reasoning's.
For those of you that still hold open houses, there is a free program/tool, Open House Manager, that you could use.
Open House Manager Tool is an Internet based tool which allows real estate agents to schedule and announce their open house event, gather feedbacks and capture leads at open house. It also provides many types of reports about the visitors that allow agents to follow up with their potential clients. The link is http://www.openhousemanager.us