As you know, the Air Conditioning and Heating Service is one of the most expensive types of repairs/services in a house. The following shows a list of top 10 tips for taking care of your Air Conditioning & Heating Service: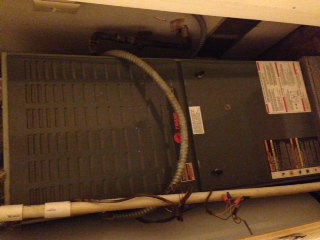 (1) Use of Programmable Thermostats - Yearly energy savings can be realized when using programmable thermostats. For example, program your thermostat at 65 degrees at night during the winter, then back to 72 degrees during the day.
(2) Seals - Check the seals around windows, doors, electrical outlets or any other potential sources for escaping air. Seal these areas using a good quality caulk, and be sure to re-examine your handiwork every few years.
(3) Check Filter - Check the air filter in your furnace or fan coil each month. A dirty filter will cause excessive wear on your furnace, air conditioner or heat pump. Replace your filter when necessary.
(4) Brush Exterior - If the exterior of your outdoor coil (condensing unit) becomes dirty, use a brush or a vacuum cleaner with a soft brush attachment to clean the surface. To clean dirt that is deep in the coil, contact one of the Home Services Review selected contractors to schedule maintenance.
(5) Remove Debris - Keep your outdoor condensing unit free of debris. If you keep grass clippings, leaves, shrubbery and debris away from your outdoor unit, it should only require minimal care. Check the base pan (under the unit) occasionally and remove debris to help the unit drain properly.
(6) Inspect Ventilation - Inspect your furnace's combustion area and vent system before each heating season. If you find dirt, soot or rust, your system may not operate properly or at it's peak efficiency. Call a professional and do not operate your furnace until it is professionally inspected and/or repaired.
(7) Clean Humidifier - Clean your humidifier at the beginning of every heating season. Review your owner' manual for the proper procedure to clean the evaporator pad and external components.
(8) Leaky ducts lose heated/cooled air into attic or crawl space. Leaky ducts can also suck in mold, humidity, and pollutants into your home. Mastic Seal ducts to improve comfort and save money.
(9) Hot or Cold rooms in your home may mean that your duct system should be balanced. To improve comfort and keep from overheating one room to get another room warm, have your air flow checked and measure, by a Certified Balancing Technician.
(10) Have Heating system safety inspected two times each year by a N.A.T.E. Certified Technician. Have Cooling system inspected one time each year.