Property Management: Can a Landlord disconnect Electric service for nonpayment of an electric bill?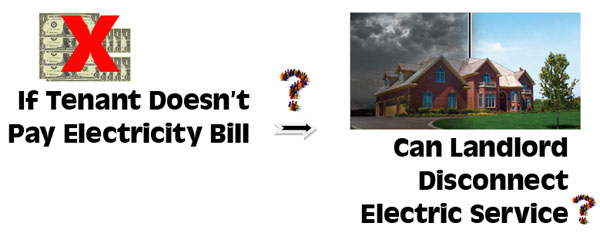 The correct answer to this question, and any other legal question similar to this question, is "DEPENDS". It all depends on the particular situation, how you (or your Attorney) will present your case, how the other parties or their attorney defend their position, and of course the judge. However, following is the Texas Law in this matter:
Texas Bill, HB 1086, Relating to interruption of electric service by a residential landlord addresses this issue as follow:
Summary:
• The bill adds an exception to the general rule that a landlord may not interrupt of utilities (water, gas, electric, etc.) provided to tenant by landlord unless it is due to an emergency, construction, or a bona fide repair.
• The exception allows a landlord who submeters or allocates electricity to disconnect service for nonpayment of an electric bill if:
1. The landlord's right to interrupt electric service is in a written lease;
2. The bill is not paid on or before the 12th day after issuance;
3. Advance written notice of termination is delivered to tenant by mail or hand delivery which
a) prominently displays "electricity termination notice",
b) includes a location where tenant can pay,
c) the amount to be paid,
d) application of those funds cannot go to rent first,
e) landlord cannot evict until payment has not been received for two days following interruption (not including weekends or holidays),
f) tenant's rights if disconnection would result in serious illness, and
g) the notice is delivered not earlier than the first day after the bill is past due or later than the fifth day before the interruption date stated in the notice;
4. Once the service is interrupted, the landlord provides an additional written notice to tenant which includes the same information as above.
• The bill also provides a litany of situations where a landlord cannot interrupt service.