Implementation of the New USDA maps are Effective on February 2nd, 2015.
On December 16th 2014 President Barack Obama signed into law H.R. 83. The Consolidated and Further Continuing Appropriations Act, which provides funding for the government through September 30, 2015. With the signing of this Act, the USDA will implement the new eligibility maps in accordance with Farm Bill on February 2nd, 2015. The new area maps that go into effect on February 2, 2015 can be found at the USDA eligibility website under the future eligible areas tab USDA Future Eligible Maps. http://eligibility.sc.egov.usda.gov/eligibility/welcomeAction.do

With this new map there would be some towns/cities that were previously eligible for USDA loans, but are now not eligible anymore based on the latest census 2010. This would impact many home buyers, especially first time home buyers and home buyers with low income. But, current eligibility maps still are valid by or before February 2nd, 2015.

A complete package for conditional commitment must be submitted to the USDA on or before Feb 2nd, 2015 in order to fall under the current eligible areas. Packages that are submitted to USDA after Feb 2nd will be subject to the new "Future Eligible Areas".
Below, you will find a future eligibility map for Dallas Forth Worth area in Texas.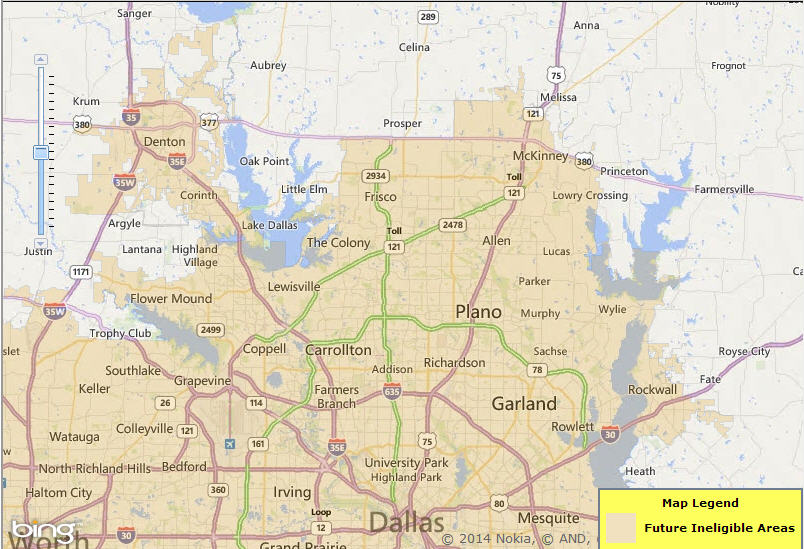 Some of the USDA eligible locations in Dallas Forth Worth area around Collin County, Denton County are:
Heath, Princeton, Fate, Rose City, Farmersville, Melissa, Anna, Prosper, Celina, Little Elm, Oak Point, Aubrey, Lantana, Argyle, Trophy Club, Krum, and …
What is USDA loan?
The USDA Guaranteed Loan Program is a federal program offered through the United States Department of Agriculture. Rural Housing through the USDA program provides a number of homeownership opportunities to rural Americans, as well as programs for home renovation and repair. This is an excellent product and benefit for those individuals that qualify.
What are USDA Advantages?
There are several advantages to using USDA's Home Loan Program.
· USDA 100% Financing

· Low Monthly Mortgage Insurance (MI) with a USDA loan

· Low USDA Mortgage Interest Rates

· USDA Low Closing Costs

· USDA Zero Down Payment.

· Easy Credit Qualifying with USDA

· Government Guaranteed Mortgage
What Are USDA Eligibilities?
Rural Housing also offers 100% financing opportunities for those who qualify. In order to be eligible for many USDA loans, household income must meet certain guidelines. Also, the home to be purchased or served must be located in an eligible rural area as defined by USDA. This typically covers towns with less than 10,000 populations.
USDA Property Eligibility Info

Basically, the USDA home loan program has 2 things it looks at when determining property eligibility:
(1) Location
(2) Physical Properties of the house.

Location Eligibility:
Determining the location eligibility is simple. Just click here and use this tool to determine if your area is eligible. Simply click on your State, the whatever County your looking in. This will bring up a color coded map. The areas shaded in "orange" are ineligible, all other areas are O.K. It's that simple!

Physical Properties:
· Single family homes only (no multi-units homes)
· Condos/Townhomes OK
· Home must be in working order (no "fixer uppers" with mechanical issues)
· No mobile homes
· Swimming pools cannot be used to determine the value of the home
· An FHA appraisal will be used
· Basically, standard homes in working order is what's expected...this is NOT a "fixer upper" program.
USDA Home Loan Income Limits

Rather than loan limits, USDA has implemented income limits. These limits are generous as they are 115% of the moderate income level for the household size of the County your buying in.

Like all home loans, your income will determine what size loan amount you can qualify for.

Click here to use USDA's income chart. Select your State, then Pick the County you're buying, then fill the form in underneath the column that reflects your household size. Use the largest income number on the chart.

Note: Regardless of who will be on the loan, ALL household income for ALL adults must be considered.
For more information about USDA loan, USDA Property Eligibility, Household income requirements and USDA Home Loan Income Limits please see USDA website at:
http://eligibility.sc.egov.usda.gov/eligibility/welcomeAction.do?NavKey=home@1
You may also see this article at:
http://www.texasfivestarrealty.com/New_USDA_Map_Effective_February_2015.asp
Contact Bahman Davani at: http://www.texasfivestarrealty.com/Contactus.asp