THERE'S NO PLACE LIKE HOME CONTEST: About My Office
There is nothing special about my house, but I like it. Specially, I like the neighborhood (Eldorado Park, Plano Texas) and the city by itself Plano, Texas.
* Plano has been selected as the best place to live 2013:
Source: http://www.areavibes.com/library/top-10-best-cities-to-live-2013/
* Plano has been identified as the safest city with lowest crime rate city in America in 2010 by Forbes Magazine.
In October 2010, Forbes magazine named Plano the safest city to live in America with a population greater than 250,000.
http://www.forbes.com/2010/10/11/safest-cities-america-crime-accidents-lifestyle-real-estate-danger.html
- See more about Plano Texas at my other blog at: http://activerain.com/blogsview/4201034/city-of-plano-texas-america-s-city
Here I am going to talk about my office at home. Though, it is not my favorite room in the house, I am spending most of times there. On average, I spend about 12 hours a day there. Now, one may ask when do you sell, or what do you do for those long hours? The answers are: Of course when I have client, after my research, I get out of my house and show them the houses. After choosing their dream homes, I start doing the CMA (Comp.), paperwork and from that point, preparing offer, negotiations, etc. can be done through emails and phone calls from my office.
In addition to the real estate, I am Engineer, programmer, Tools and Apps developer and researcher in nature and I do design/develop websites too! I work long hours and usually go to bed around 2-3 AM.
Here are a few Pictures of my crowded office, please note that not always my office looks like this, almost all times it looks much worse: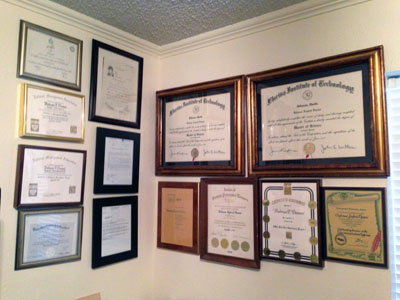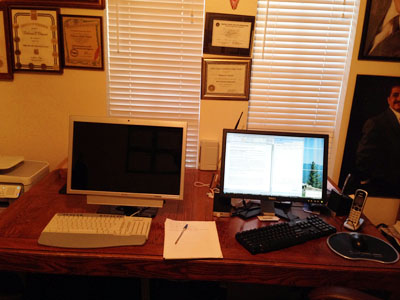 My office is very crowded and full of papers, documents, etc. I have three desktops PCs, 2 laptops with different operating systems. I have a lot of expensive tools and programs (about $30K) that I had bought at the time of XP operating systems and most of them they will not work with the newer operating systems such as Windows 7 and Windows 8. Therefore, I must keep my XP operating system alive and healthy. Some, but not all, of my expensive programs work with Vista Operating system and that is the computer one I am using most, because I need more memory than XP can support.
With the pride of living over 33 years in Plano, I am proud to serve as your Professional Real Estate Consultant and guide you through the selling, buying and leasing process, help you locate a suitable site for your business, provide neighborhood demographics and schools information, and more information.

Mobile: 214-457-7055
Fax: 972-596-7984
email: Bahman@TexasFiveStarRealty.com
www.TexasFiveStarRealty.com