Multi-Tasking vs Single-Tasking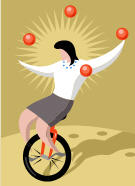 This is a response and comment to Chapter 5 of "The ONE Thing (book written by Jay Papasan and Gary Keller)". See http://activerain.com/blogsview/3695456/the-one-thing-challenge-the-surprisingly-simple-truth-behind-extraordinary-results for additional information about this book.
Though, I agree with a lot of points made in this book, but I do have some disagreements and comments as follow.
Frankly, the way I see it, is just a matter of how you define or interpret the word "Multi-Tasking". I never interpreted Multi-Tasking as doing multiple tasks simultaneously and all at once in parallel. As a matter of fact, those tasks that require order/decision/interaction/analysis from brain cannot be done simultaneously at all.
As an example see if you can do this exercise: bring your two arms in front of your chest, now rotate your right arm clockwise and left arm counter-clockwise simultaneously. Did you do it? If you did, please let me know since I have not seen or heard anybody can do it.

I interpret "Multi-Tasking" as doing multiple tasks alternatively one-by-one without losing the attention and tasks to be done completely and correctly. I agree that doing this correctly and not losing focus on all tasks is very difficult and not everybody can do, but there are some that have done some Multi-Tasking jobs successful y (and still are doing it).
There is no requirement for the minimum time you need to spend or wait on one task before you alternate to the other task. As a matter of fact if you wait long enough that you finish one job and then alternate to the other job, then it becomes "Single Tasking".
Distraction is part of real world job and cannot be avoided unless you disassociate yourself with your surrounding and don't care about anything else except the project or the job your are working on. E.g., you make yourself a prisoner in a closed room, no sound, no interaction with other, no communication or communication tool contacting outside and don't do anything else except what you were planned to do (even if there is a fire in the building, don't try to do something about it because it was not part of your original plan). You could and should manage and minimize distractions, but cannot ignore it completely.
Is Juggling a single-task or multi-task?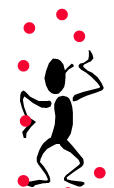 To me catch, toss, catch, toss, catch, toss, etc are repeating of two mechanical tasks and one decision making Task continuously until ends. Therefore, juggling is a three-task (or Multi-Task) and not a single-task. "Task of switching" as it described in the book really consists of three tasks, 1) throwing the ball on the air, 2) analysis and determine the right time to catch, and 3) catching the balls while they are falling down..
In summary, the book has a lot good points, but with my understanding and interpretation of "Multi-Tasking", doing multiple tasks alternatively one-by-one without losing the attention and tasks to be done completely and correctly, it can be done and can save time too!