Mobile Friendly Websites, Do They Worth the Cost?
You have a website that you are happy with, but you get emails, phone calls and many other forms from companies offering you, with some fees, to convert your site to a mobile friendly site. You are wondering why do I need a mobile friendly website and whether or not it worth to pay that much money.
The following describes the differences between a traditional website and Mobile website, why Mobile websites are important and if they are worthy.
Traditional Websites:
Almost everybody, person, club, organization, company, etc have already has some sort of website, traditional website, and are familiar with it. Some could have hundreds of web pages with a lot of information. A sample of traditional website is shown below: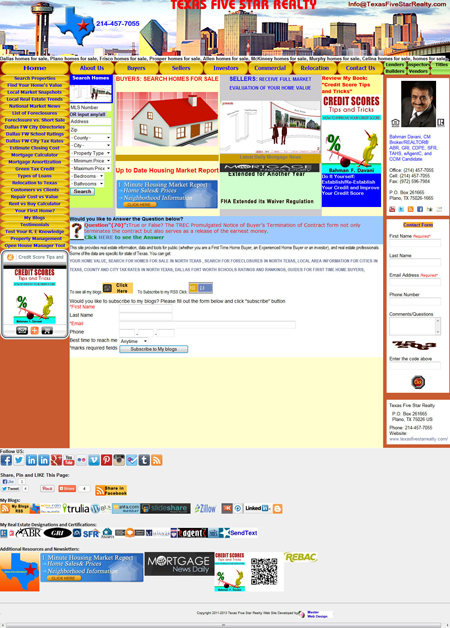 Traditional websites are using Internet browsers with no limits and no restrictions on number of pages and technologies. Of course they need to be optimized for faster download. They don't use any of your computer memory or resources.
Mobile Website:
This is what your website looks like on most popular smart phones and tablets.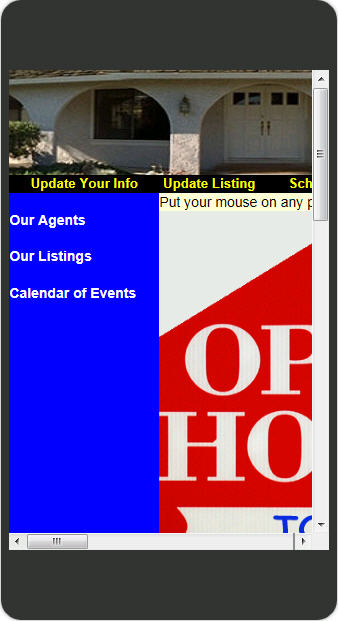 Mobile friendly websites are using Internet browsers from the mobile device, though technically there is no limit on the number of pages, it is usually much smaller size. Also Mobile devices do not support all technologies and features that are ready available for traditional websites such as: Flash and uploading documents to the server currently are not supported in any Mobile devices.
Who Are Using Mobile Website?
People on the go that they need to access information quickly use Mobile devices to access the Internet.
That is almost everybody, who is not at their own desks, use Mobile devices to access the Internet. Specifically, real estate agents must have immediate access to MLS data, property Tax and appraisal information, capability of calculating mortgage payments, search properties, etc.
According to Morgan Stanley, in five years there will be more mobile internet users than desktop internet users.
Why Mobile Websites are Important?
· Did you know that 43% of all phones are smart phones, and 87% of them use it to access the internet? Therefore, it probably makes sense to get this in place sooner rather than later.
· People on mobile phones are spending more time on the site. They're not as likely to abandon, and people are going to the big product category pages.
· The bounce rate of mobile visitors was about 50% higher than that of normal visitors.
· Their time spent and conversion rates are significantly lower, too.
Some of the Basic Designs that should be considered in developing a Mobile website are:
· Mobile websites should be simple and utilitarian to allow visitors to quickly get the information they need and move on.
· Links were large enough to be easily read and clicked on a touch screen.
· Avoided using too many images to ensure the site would have an efficient loading time.
· Mobile websites cannot afford to be as large as traditional websites. The devices, the networks and the consumers' time are much more limited in mobile browsers. This means you cannot fulfill mobile visitors' every goal.
· You need a mobile CSS if you want people to access your site on their smart phones.
Does It Worth?
It all depends on how much you get business from your website and how much you can afford to build a Mobile friendly website. Remember, Consumers using mobile Web browsers are visiting your site ‐‐ whether you have pages designed for them or not. If they don't find what they want, their visits will be short before they go somewhere else.