How to Establish or Re-Establish Your Credit
In today's tough economic times, where every person is being evaluated by a number (Credit Score), having a good Credit is an essential to enjoy an appropriate standard of living. You need to have a good credit just to rent an apartment, rent a car, open a bank account, get insurance, get a job, buy a car or obtain a home mortgage. Depending on your Credit you will be denied, will be offered a good rate, or will be offered with higher than normal rate/down payment, etc. Like most cases in finance, those with the lowest risks get to pay the lowest rates.
This articles provides steps and guidelines for those
Who do not have a credit history such as new high school graduates, new immigrants with permanent residency, etc. (Need to establish credit)
Who do have a credit, but their credit and credit score are not good (Need to re-establish credit)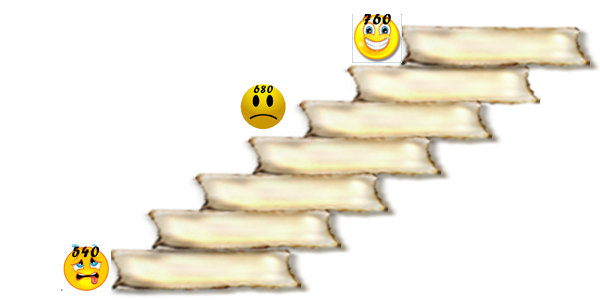 Steps in Obtaining Credit
1. You will need to have checking and savings account when applying for credit cards. So, if you don't have, open a checking and savings account. Banks offer many different checking accounts types, each has some positive and negative features and a monthly fee associated with that type of checking. Make sure to select a bank or a feature that does not cost you every month.
2. Make sure a Telephone number is listed under your name.
3. Apply for several "secured credit cards". Secured Credit Cards are those credit cards (e.g., MasterCard, Visa) that you need to put some money in the bank ($1000, $2000, etc) and the bank issues a credit card up to you available deposit.
4. Apply for department store charge cards, gas charge cards, furniture stores credit cards, and other easy consumer credit cards. When you are purchasing their products, usually they give you easy credit a couple of hundred dollars above your major purchase (e.g., $2000, etc).
5. Open a CD (Certificate of Deposit) account with a bank with a minimum of $1000. Wait for a few months and then go apply for a loan using your CD as collateral. Usually the finance charge for this types of loan is slightly higher than the interest they give you on your CD. Make sure you pay your loan payments on time for minimum 6 months that allows the payment history shows up in your credit reports.
6. Apply for an unsecured credit card or loan (e.g., if buying a car) as a co-borrower using a family, relative who has good credit as a co-signer.
7. Apply for unsecured credit card, after you have established some credits, with you as a primary borrower.
Managing Your Credit and/or Re-Establishing Your Credit
After you established a credit, it is very important you keep that credit is good or very good condition, e.g., pay all your bills, loans, etc. on or before time and manage your credit cards and loans. To see the tips on how to manage your credit and have a good credit score please see my other article in
http://www.texasfivestarrealty.com/What_Makes_Up_a_Credit_Score_and_How_To_Improve_it.asp
Do's and Don'ts When Applying for a Loan
If you are buying a home sometimes soon and have plan to apply for a mortgage loan follow these Do's and Don'ts recommendations:
http://www.texasfivestarrealty.com/Dos_and_Donts_Before_Applying_a_Mortgage_Loan.asp