Texas bluebonnet in a Neighborhood Park, Eldorado Park, Plano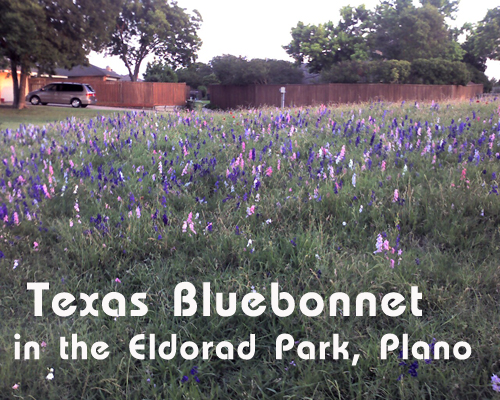 Bluebonnet is the state flower of Texas.
Bluebonnet is a plant which begins its life in the fall as a small, gravel-like seed. The seed has a hard seed coat that must be penetrated by wind, rain, and weather over the course of a few months (but sometimes several years). Growth continues over the mild winter months and then in the spring will take off and rapidly grow larger, before sending up a 20-50 cm tall plume of blue flowers (with bits of white and occasionally a tinge of pinkish-red).
A Bluebonnet plant is a biennial plant which is a flowering plant that takes two years to complete its biological lifecycle. In the first year the plant grows leaves, stems, and roots (vegetative structures), then it enters a period of dormancy over the colder months. Usually the stem remains very short and the leaves are low to the ground, forming a rosette. Many biennials require a cold treatment, or vernalization, before they will flower. During the next spring or summer, the stem of the biennial plant elongates greatly, or "bolts". The bluebonnet plant then flowers, producing fruits and seeds before it finally dies.
Because of the Texas weather, openness and size, you can see bluebonnet almost everywhere, including along the roads, highways, mountains, parks, and even in some backyards. The picture above shows bluebonnets in a neighborhood park, Eldorado Park in Plano Texas. Again, bluebonnet flower is the state flower of Texas and it is illegal to pick them up.
With the pride of living over 33 years in Plano, I am proud to serve as your Professional Real Estate Consultant and guide you through the selling, buying and leasing process, help you locate a suitable site for your business, provide neighborhood demographics and schools information, and more information.

Mobile: 214-457-7055
Fax: 972-596-7984
email: Bahman@TexasFiveStarRealty.com
www.TexasFiveStarRealty.com